Something New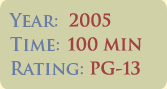 Description of Film: A directorial debut from Sanaa Hamri, Something New is a film about love, societal differences and racial barriers that interracial couples have to endure on a daily basis. Kenya McQueen (Sanaa Lathan) is a workaholic whose main focus is making partner at a prestigious accounting firm. Brian (Simon Baker) is a landscape architect who's interested in the ever-so-difficult Kenya. As the film begins, Kenya and her girl friends are alone on Valentines Day. They are having a conversation about how they are still single and that over 40% of black women will never marry. All of this comes to an end when Kenya is set up on a blind date with Brian by her coworkers. When she realizes that he is white, Kenya immediately takes a step back. While Kenya is determined to do everything in her power to distance herself from Brian, they find each other again when Brian is hired to landscape Kenya's backyard. As they spend more and more time together discussing the landscapeing, Kenya begins to enjoy Brian's company. However, Kenya's family and some of her friends disapprove of her dating a "white gardener." Kenya also maintains some concerns about dating a white man. Therefore, she ends her romance with Brian, but soon realizes that she was much happier with him in her life. Despite their differences, Kenya is determined to be with Brian. She is able to put their race difference behind her and follow her heart.
Something New was directed by Sanaa Hamri and is rated PG-13 for sexual references.
Why I Recommend This Film: Something New is a romantic comedy that humorously addresses the positive and negative aspects of interracial relationships. The film addresses the issue of race at every turn in Something New. However, rather than merely presenting the still-prevalent problem of racism, this warm-hearted romantic comedy opts for providing a solution. It is a very "cute" and positive film that will leave its audience saying "aw."
Why This Film is Important: A lot of films emphasize the comedic dimension of "romantic comedy," Something New is different. Instead, it downplays the comedy and stresses the characters' relationship. This allows the movie to present a more real and insightful story than most films about interracial dating present. Something New also addresses the "privilege" that white men have in everyday life and the struggle that black women go through to prove their intelligence and dedication.
Favorite Quotation:
Brian: "Is this a wig" (touching Kenya's hair) "or can you take it off or something?"
Reference: http://movies.about.com/od/somethingnew/a/something020206.htm