American History X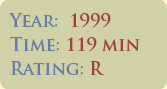 Description of Film: Tony Kaye directed this amazingly vivid, incredibly graphic film about a young man from Venice Beach, California, who becomes a raging neo-Nazi and a member of a White Supremacist group. Edward Norton (Fight Club) offers a mind-blowing performance as Derek Vinyard, the troubled youth who finds solace in the world of White Supremacy. Beverly D'Angelo (Vegas Vacation) turns in an amazing performance as Vinyard's mother. Edward Furlong (Detroit Rock City) is superb as Derek's brooding younger brother, Danny. At the beginning of the film, Derek Vinyard is an intelligent and articulate young man who, through a series of events, turns unbridled hatred into a lifestyle. He is sent to prison for committing a brutal act of hatred. While in prison, he "unlearns" racism with the help of one of his high school teachers, Dr. Bob Sweeney (played by Avery Brooks, 15 Minutes), and an interesting inmate named Lamont (played by Guy Torry, Life). Sweeney also plays a big part in Danny's life, especially when he assigns Danny an interesting paper topic: write about his brother. Now, the only thing left for Derek to do is to persuade his brother not to choose the wrong path.
This movie is amazing, but it also is incredibly graphic (i.e., violence, nudity, language and rape), hence its R-rating.
Edward Norton earned an Academy Award nomination for his performance.
Why I Recommend This Film: This movie is very powerful partly because it is so graphic. Norton's performance is incredibly convincing; it's amazing to see hatred portrayed to this extent. The way in which the movie is shot also is beautifully done. Its style helps convey the film's message even more.
Why This is Important: This movie offers a glimpse into the minds of white supremacists. It gives some insight into why people may join these kinds of groups. Some people clearly have psychological problems or encounter events that push them to the dark side of society. This is something to consider when we study hate speech, hate crime and hate groups. This movie shows the personal side of hate. It allows us to better understand people who think like this and who do terrible things. It also allows us to understand that some of these people can change their lives for the better.
Favorite Quotation: "So I guess this is where I tell you what I learned - my conclusion, right? Well, my conclusion is hate is baggage. Life's too short to be pissed off all the time. It's just not worth it. Derek says it's always good to end a paper with a quote. He says someone else has already said it best. So if you can't top it, steal from them and go out strong. So I picked a guy I thought you'd like. 'We are not enemies, but friends. We must not be enemies. Though passion may have strained, it must not break our bonds of affection. The mystic chords of memory will swell when again touched, as surely they will be, by the better angels of our nature.'"