Mississippi Burning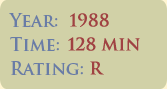 Description of Film: Two FBI agents, Rupert Anderson (Gene Hackman, Runaway Jury, Heist, The Birdcage, Unforgiven, Hoosiers) and Alan Ward (William Dafoe, American Dreamz, Spiderman) are in search of three missing civil rights workers in a small town in Mississippi. The year is 1964. The town is racially segregated and largely run by the Ku Klux Klan. As the agents attempt to solve their case, they receive little assistance from local law enforcement officials and political leaders. In fact, local government officials seem very suspicious of the FBI agents and unconcerned about the missing civil rights workers. As viewers follow the FBI's progress in trying to crack the case of the missing civil rights workers, they also witness the agents attempting to crack the case of race.
This film was directed by Allen Parker (Angela's Ashes, Evita) and written by Chris Gerolmo. It received several Academy Award nominations, including those for Best Director, Best Actor in a Leading Role, Best Actress in a Supporting Role, and Best Picture. It won an Academy Award for Best Cinematography. The film is rated R, largely for the graphic scenes in which viewers witness violence perpetrated against African Americans by members of the Ku Klux Klan.
Why I Recommend This Film: This film is well acted and very riveting. It depicts an important moment in the history of the Civil Rights movement and graphically demonstrates the violent nature of the Ku Klux Klan. The level of violence directed toward civil rights workers shows how deeply embedded people's prejudices were and what they were willing to do to prevent change. The film shows how dangerous people can be who are fueled by hate.
Why This Film is Important: I think that people underestimate the consequences of hate. Whether one acts upon these feelings or not, hate is still an undeniably fatal force. People often do not realize that the events like those portrayed in this film still take place. However, the world is still filled with hateful people. Even though we might think the problems in the film have passed, the truth is that many of these situations (and the issues that give rise to them) are still evident today.
Favorite Quotation:
"I have no more love to give! I have only anger in my heart today, and I want you to be angry with me! That I am sick and I am tired, and I want you to be sick and tired with me! I-I-I am sick and tired of going to the funerals of black men who have been murdered by white men! And I-I am sick and tired of the people of this country who continue to allow these things to happen!" What is an unalienable right if you are a negro? What does it mean, Equal Treatment under the law? What-what does it mean, Liberty and justice for all? Now I say to these people, "Look at the face of this young man, and you will see the face of a black man. But if you look at the blood shed, it is red! It is like yours! It is JUST... LIKE... YOURS!"
Reference: http://www.geocities.com/amensoccer/reviews/rvmissb.html
http://www.imdb.com/title/tt0095647