Hotel Rwanda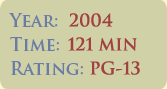 Description of Film: While the rest of the world closed its eyes, the tensions between the two primary tribes in Rwanda, the Hutus and the Tutsis, exploded into full-out war. In 1994, one million people were viciously murdered in the country of Rwanda. Hotel Rwanda tells the true story of Paul Rusesabagina, a Rwandan hotel manager caught in this bloody war. As the country becomes a place of madness, Paul Rusesabagina (Don Cheadle, Traffic), secretly uses his influence to shelter over a thousand refugees during the genocide. Paul realizes that he is the only hope for the refugees. Other countries refuse to help; they rescue their own people from the conflict and leave the Rwandans to die. Countless times, Paul avoids the execution of the refugees and himself by using every resource available to him. Paul shows extreme intelligence as he continuously bribes and bargains with the Hutu leaders to spare the Tutsi refugees. He sacrifices his job and even the safety of his family to help the Tutsis people. The tragic tale ends on a faint high note as the Rusesabagina family and most of the refugees of the hotel are able to escape the country to safety.
Hotel Rwanda was nominated for 3 Oscars. Overall, it won 12 awards and received 24 international nominations.
Why I Recommend This Film: This movie graphically depicts the horrors of a civil war. It gives us a very real picture of civilians caught in a political battle. This movie is not a simple Hollywood drama, but it is a true tale of a man who tries to save not only his family but complete strangers from death. This is a true tale of a person trying to give hope to others when all seems lost.
Why This Film is Important: Hotel Rwanda shows us that race discrimination is not always a black/white problem. The clash in this movie is very different from ones that are typically depicted in film or the news. Hatred can be between people who have no difference between them on the outside. This movie will open the eyes of those who turn a blind eye to third world countries. We can see that people from other countries are not very different from us. The unwillingness of other countries to help Rusesabagina and the refugees provides an important lesson. Hopefully, it will inspire action in all of us to address such atrocities, even if we are not directly affected by them.
Favorite Quotations: After Paul thanks him for shooting footage of the genocide...
Jack: "I think if people see this footage, they'll say 'Oh, my God, that's horrible.' And then they'll go on eating their dinners."
Paul Rusesabagina: "There will be no rescue, no intervention for us. We can only save ourselves. Many of you know influential people abroad; you must call these people. You must tell them what will happen to us... say goodbye. But when you say goodbye, say it as if you are reaching through the phone and holding their hand. Let them know that if they let go of that hand, you will die. We must shame them into sending help."
References: http://www.hotelrwanda.com/main.html