Bend It Like Beckham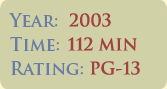 Description of Film: Bend It Like Beckham tackles two different types of discrimination. Jess (Parminder Nagra), an Indian girl born in England, faces the tough task of adhering to her family traditions while chasing her dreams. Not only must Jess face the challenges of being Indian in a different culture, but she also must struggle to be a woman soccer player in a man's game. Her new friend Juliet (Keira Knightley) helps her secretly join a girls' soccer (football) team under the direction of a male coach (Jonathan Rhys Meyers). When the team starts winning, her family discovers her dream of being a professional soccer player. Jess's parents have a difficult time forgiving past discrimination and balancing their Indian traditions with the English society. As the family grows, they are able to work as a unit and find a balance in their world. The story of Bend It Like Beckham is able to grab its audience with its genuine description of Indian life and its engaging characters. The devotion of the director Gurinder Chadha (Bhaji on the Beach, What's Cooking?) comes through in this movie. "Bend it Like Beckham" transcends all types to send a poignant and inspiring message.
Bend It Like Beckham was nominated for a Golden Globe Award and won an ESPY for Best Sports Movie. This movie was nominated for and won 17 awards internationally.
Why I Recommend This Film: This movie is a high-spirited comedy. This is a great "girl-power" movie with a strong and important message. It's easy to rally behind the characters and cheer for them. It also allows audiences to learn about an ethnicity and culture that is seldom illustrated in American movies. It also provides a wonderful lesson in rebelling against traditions without ruining friendships or families.
Why This Film is Important: This movie depicts two types of discrimination. The movie does not simply deal with race, but the gender-based traditions of an entire culture. The role of gender in different cultures is an important issue that merits discussion but is rarely portrayed in film.
Favorite Quotation:
Joe: "Look, Jess. I saw it. She fouled you. She tugged your shirt. You just overreacted, that's all. "
Jess: "That's not all. She called me a Paki. But I guess that's something you wouldn't understand."
Joe: "Jess, I'm Irish. Of course I understand what that feels like.