Life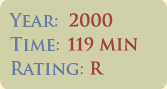 Description of Film: Eddie Murphy (Shrek, Doctor Dolittle, Beverly Hills Cop, 48 Hours) and Martin Lawrence (Big Momma's House, Bad Boys) collaborate in a comedy that shows the lighter side of prejudice and discrimination in the judicial system in the 1930's. Claude Banks (Lawrence) and Ray Gibson (Murphy) have an unpleasant encounter with a New York kingpin over an unpaid debt. Ray and Claude find themselves deep in the backwoods of Mississippi, transporting moonshine for the gangster in a bargain to save their lives. While in the South, Ray and Claude get falsely accused of a murder by a racist Sheriff. The judge hands them life sentences, to be spent on chain gangs in the state of Mississippi. While fulfilling their sentences, they experience life as underprivileged people.
Life was directed by Ted Demme (American History X) and written by Robert Ramsey and Matthew Stone. This movie was rated R for language.
Why I Recommend This Film: This film gives viewers a chance to explore hate, prejudice, and discrimination from a comedic perspective. It sheds light on the type of judicial system that was in place during the 1930's. Although one may laugh at the fact that two men had to spend their lives in prison after being framed for murder, this situation is not entirely fictional. Such situations were allowed to occur because of the racist, prejudiced, and privileged judicial system that was common not only in the South, but all over the United States at the time. Today, new evidence and DNA test have contributed to the release of many people who were convicted in such systems but who were actually innocent.
Why This Film is Important: This film can be used as teaching tool that shows discrimination can be based on anything. Although it focuses on discrimination based on race, it also shows discrimination based on sexual preferences and geographical region.
Favorite Quotation:
Ray Gibson (Murphy):"How much will it cost to turn one of those 'white only' pies into 'Negro' pies?"
Sales Clerk:"How 'bout I turn yawl into ni**a pie?"
This quotation shows how strongly Southerners felt about keeping segregated establishments. Blacks couldn't go into "white only" businesses for any reason in those days.
Reference: http://www.rottentomatoes.com/m/1086991-life/about.php