8 Mile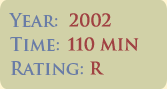 Description of Film: This film provides an edgy 110 minutes of hip hop battles, drama, and more drama that was filmed on location in Detroit, MI. Eminem (aka Marshall Mathers) plays Jimmy Smith, Jr., also known as B. Rabbit. He is from the wrong side of the tracks and dreams of making it big in the hip hop world. Rabbit lives on 8 Mile Road in Detroit. This road is known to locals as the city's perimeter. It is thought to be the line between urban and suburban, black and white. Rabbit is white and is attempting to break into rapping, which is mainly an African American field at this time. Rabbit lives with his younger sister and mother (Kim Bassinger, L.A. Confidential, Batman). His mother is a dead-beat and he has a lot of anger from being poor. Still, Rabbit has a close-knit group of friends who he feels are his real family. His friend Future (Mekhi Phifer, Curb Your Enthusiasm, ER) is a rap battle host at the Shelter Club. Rabbit has tried battling, but has had little success. Still, he is motivated to pursue rap because he doesn't see himself going anywhere if he doesn't. Along the way, he gets help from girlfriend Alex (Brittany Murphy, Sin City, Riding in Cars with Boys). Rapping is Rabbit's true love, though. At the end of the film, we see him succeed at rap battling. Finally, he gets the respect he wants.
Curtis Hanson, the director, is well known for directing L.A. Confidential, Wonder Boys, and The Hand that Rocks the Cradle. He portrays Detroit in a gray, dark, and dismal way. It is almost as if he wants the viewer to think it is a "Dead End." The film was written by Scott Silver who also wrote The Mod Squad (1999 version, released in 2002). 8 Mile is rated R for strong language, sexuality, some violence, and drug use.
Why I Recommend This Film: This film is loosely based on Eminem's life. The film has an excellent soundtrack and Eminem's lyrics are powerful. (He won an Academy Award for Best Song.) His lyrics talk about his life story and the hardships he has endured. Eminem also does a great job acting. I don't think it was a terribly difficult role to play, however, since he is virtually playing himself.
Why This Film is Important: This is a great film because it explores the life of a poor, lower-class "kid" who turns himself into something big. Rabbit is competing in a mainly African American rap-battling scene. He is basically the only white person who battles. It was difficult to prevail over this and gain the respect he wanted. Rabbit has his dream come true at the end and makes it big. He was able to overcome his difficult circumstances and the stereotypes others had about him to achieve success. It is rather inspiring.
Favorite Quotation:
Rabbit [realizing the need to transform his life if he was going to survive]: "You ever wonder at what point you gotta just say F**k it, man? You ever wondered at what point you gotta stop livin' up here, and start livin' down there?"
Reference: http://www.8-mile.com
http://www.mtv.com/movies/movie/213724/moviemain.jhtml