The Green Mile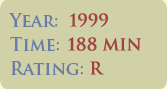 Description of Film: This movie tells the story of an innocent black man, John Coffey (Michael Clark Duncan, Sin City, The Scorpian King, Armageddon) who is convicted of two heinous murders and imprisoned on Death Row. The guards at the penitentiary, led by Paul Edgecomb (Tom Hanks, The Da Vinci Code, Cast Away, Saving Private Ryan ) soon discover that Coffey possesses an incredible gift - - he can heal people. The gentle Coffey changes the guards' lives and makes them face a moral dilemma: how can an innocent man who possesses the gift of life be put to death?
The Green Mile was nominated for four Academy Awards in 2000: Best Actor in a Supporting Role, Best Picture, Best Sound, Best Writing (Best Screenplay Based on Material Previously Produced or Published). It also was nominated for 23 other national awards and won 13 of these.
The Green Mile is based on a novel written by Stephen King. This movie is rated R for violence, language and some sex-related material.
Why I Recommend This Film: This movie is like a fairy-tale mixed of real drama and problems of the '30s. A large problem of the '30s, which is apparent in this movie, consists of negative race relations between African-Americans and Caucasians. You will fall for John Coffey's (Michael Duncan) sense of sincerity and willingness to help others, even though his humanitarian actions wind him up in the penitentiary and on death row.
Why This Film is Important: This movie teaches us to look inside of a person and not at their physical appearance. At this time, Caucasians were seen to be as upstanding citizens. However, in a reality, one of the Caucasian guards was the meanest man in the movie. And then there was Duncan, an African-American who was a very sincere and kindhearted person; he was always willing to help out others before himself. This movie teaches us to embrace differences and look past the hatred that one may feel for someone because of his or her race.
Favorite Quotations:
"Miracles happen in the most unexpected places." - - This reminds me of a scene that happens in the movie, which I will not give away. But taking it to the character that Michael Duncan embodies, he was such a giant man, but was a very gentle giant. Even though he was mistakenly on death row, he was a compassionate for others, whether they were humans or animals.
"Walk a mile you'll never forget."- - This was said when Duncan was being led to the execution chair. But to me, this means walking in the shoes of someone that you know will make an impact on you, no matter what others may say. Try to involve yourself in the life that they are living and take something back and apply it to your own life.
Reference: http://www.imdb.com/title/tt0120689/