G.I. Jane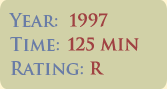 Description of Film: Demi Moore stars in this astounding film about one woman's battle to gain acceptance as a U.S. Navy SEAL. In the film, we meet Lt. O'Neil (Moore, Charlie's Angels, A Few Good Men, Ghost), a "test case" who is used to challenge the military's policy that restricts women from combat. O' Neil was denied the chance to fight in the Gulf War. Now she is given the opportunity to undergo training to become a SEAL. O'Neil's sponsor, Senator Lillian DeHaven (Anne Bancroft, How to Make an American Quilt, Malice, Torch Song Trilogy), has faith in O'Neil when everyone else doubted her. O'Neil and her fellow male candidates in the program go through hell to pass their training. In the beginning, O'Neil is disliked and treated differently. She must attempt to prove to the other men and her irate command master chief (Viggo Mortensen, A History of Violence, Lord of the Rings) that she can make it in a male-dominated field. O'Neil is able to demonstrate to the men that she can and is able to fight and withstand the grueling training. She moves into the men's barracks and at one of the most dramatic moments, she shaves her head, proving that she is no different from the men. This is the turning point in the film, when you can see that she is really going to do this. O'Neil persists and becomes the team captain of her group. The trainees end up in Libya and it all comes down to O'Neil saving her command master chief. The film ends with everyone receiving their diplomas for graduating from SEAL training.
Ridley Scott directed G.I. Jane. He is well known for directing White Squall and Thelma & Louise. The screenplay was written by David Twohy and Danielle Alexandra. It is rated R for violence, profanity and brief nudity.
Why I Recommend This Film: This movie is an inspiring, edge-of-your-seat adventure. Demi Moore took on an amazing role playing such a powerful woman. The performances throughout were incredible. Viggo Mortensen's character is portrayed as a terrible, ruthless man. I just enjoyed watching a strong woman take on such a man in a male-dominated field.
Why This Film is Important: This movie is important because it shows that women can overcome something as difficult and enormous as SEAL training and come out on top. O' Neil fought her way through this and succeeded. This shows that everyone can accomplish their dreams and no one should hold them back. There is a stigma concerning women in the military. O'Neil proved to everyone that she could rise above this prejudice and succeed.
Favorite Quotation:
Senator Lillian DeHaven [speaking to several Navy men regarding women in the military]:"At least one quarter of all the jobs in the military are still off limits to women and that's gotta change."
In another scene, the trainees are in a simulated war. O'Neil is "captured" and treated as a prisoner of war. Her command master chief is torturing her and at one point she frees herself and turns the abuse on him. The Command Master Chief states, "Seek life elsewhere." In absolute defiance, O'Neil responds, "Suck my d**k."
Reference: http://www.starpulse.com/Movies/G.I._Jane/index.html
http://www.imdb.com/title/tt0119173/