Malcolm X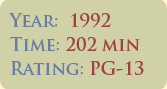 Description of Film: Director Spike Lee (She Hate Me) is known for delivering powerful films. He succeeds again when depicting the life of Civil Rights Activist Malcolm X. Denzel Washington (now featured in three of the movies on our list) stars as the controversial leader. Angela Bassett (Mr. 3000) plays Malcolm's wife, Betty. The story begins with Malcolm as a young man. Malcolm X was the son of a man who preached openly and strongly about Black pride, a man whose views were similar to those held by Marcus Garvey. Garvey believed that Black men and women needed to move back to Africa to find a place where they would be free and equal. Malcolm's father was murdered by the Ku Klux Klan, an event that set things in turn for Malcolm X. As a young man, Malcolm X led a life of ill repute; he drank too much, did drugs, and stole. Then, he is sentenced to prison. In prison, he encounters an elderly gentleman who begins to teach him the ways of Allah and Nation of Islam through the Black Nationalist leader, Elijah Muhammad. Malcolm begins to find his place. He leaves prison and begins preaching to crowds about being Black in America. He is essentially a Black separatist; he believes that Blacks and Whites should not integrate. He believes that Whites are "the devil" and preaches this to crowds. However, some time later he visits the city of Mecca and becomes a Sunni Muslim. He returns to America as a changed man. He no longer preaches about White hatred. Instead he tries to find a solution to the problem of racism in America.
This film follows Malcolm X through his early life all the way to his tragic and premature death in 1965. This movie also features the excellent Delroy Lindo (Sahara) and Spike Lee.
Why I Recommend This Film: This movie features excellent acting and directing. It is truly a tribute to Malcolm X. The movie does not appear to hold anything back when recounting his life. That kind of honesty in film is always admirable.
Why This Film Is Important: Malcolm X, while extreme and controversial in many of his views, was very eloquent and achieved many things for the Civil Rights movement. It is important to know about him as a person and to understand the kinds of things that he fought for. While many disagreed with the methods he first took, he was a leader of the Civil Rights movement and ultimately, was fighting for equality.

Alex Haley and Malcolm X "The Autobiography of Malcolm X"

Favorite Quotation: In one of his speeches, Malcolm X stated, "We didn't land on Plymouth Rock. Plymouth Rock landed on us!"