Crash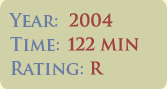 Description of Film: This gripping thriller takes place in Los Angeles and centers on two days in the lives of a diverse group of people. Brought together in a variety of ways and by a variety of circumstances, these people must cope with difficult life situations. Interactions between the characters are tense as they are forced to confront racism and classism. This movie deals with prejudices that are both readily apparent and those that are hiding beneath the surface. It brings stereotypes of African-American males, Caucasian males and women into the light and shows what many people are still thinking, but may not be saying.
Crash has an all-star cast that includes Sandra Bullock, Don Cheadle, Matt Dillon, Jennifer Esposito, William Fichtner, Brendan Fraser, Terrence Howard, Chris "Ludacris" Bridges, Thandie Newton, Ryan Phillippe, Larenz Tate and Michael Peña.
Crash won several Academy Awards: Best Picture of the Year, Best Film Editing, and Best Screenplay (Written Directly for the Screen). The screenplay was written by Paul Haggis and Bobby Moresco. The film also was nominated for Academy Awards for Best Actor in a Supporting Role, Best Director, and Best Music.
This movie is rated R for language, sexual content and some violence.
Why I Recommend This Film: This movie makes a very powerful statement. I walked away from this moving really thinking about how the world is and why it is that way. The "crash" of people meeting and the reasoning behind some of their underlying feelings makes me wonder. Why do people still have such ill feelings toward others based on race and sex? Why do they hold such feelings inside until they feel threatened? All of the stereotypes evident in this movie were written in for a reason. The film portrays stereotypes that need to be broken and discusses why they haven't been broken. As Crash makes clear, these stereotypes have not been broken because many people still feel very strongly about segregation and sexism.
Why This Film is Important: This movie is important because its message really stays with you. Crash makes you think about what people do when they see someone who is not like them in public and private places. It makes people look at themselves and realize that maybe they have some prejudices that they didn't even know that they had. This is a film that everyone should see and discuss because it deals with important issues such as racism, prejudice, and sexism.
Favorite Quotation: "Moving at the speed of life, we are bound to collide with each other." - - To me, this quotation means that we are so consumed with ourselves and own lives that we typically brush past people and experience no connection with them. However, eventually we will run into someone and they will have an impact on us because people are not able to avoid one another forever.
Reference: http://www.crashfilm.com