Boys Don't Cry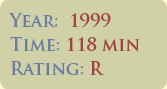 Description of Film: Kimberly Pierce (Silent Star) directed and co-wrote this poignant and disturbing tale that is based on events in the real life of Brandon Teena/Teena Brandon. Teena Brandon was a young woman from Lincoln, Nebraska who wanted desperately to live life as a man. She wrapped her breasts, cut her hair, and assumed the name of Brandon Teena. Brandon was so convincing that people believed she actually was a man. Brandon, who is played by Hilary Swank, (Million Dollar Baby), fell in love with a woman named Lana Tisdel, played by Chloe Sevigny (Melinda and Melinda), who lived in a small town in Nebraska. Brandon's life was going fine; he had even made two male friends: John Lotter (Peter Sarsgaard, Garden State) and Tom Nissen (Brendan Sexton III, This Revolution). Of course, the reason that everything was going so well was because Brandon had decided to conceal his true identity. When the others make this discovery, everything goes awry. Lotter and Nissen are bent on ridiculing and degrading Brandon and divulging his secret. They even pull his pants down and expose him to Lana. After this, Lotter and Nissen take Teena to a remote location and rape him repeatedly. They later hunt Brandon down again and murder him and two other bystanders. Lotter and Nissen are then convicted of murder and sentenced to the death penalty.
This movie is very graphic and is rated R for violence, nudity, rape, drug use and language.
Boys Don't Cry was nominated for two Academy Awards: Best Supporting Actress (Chloe Sevigny) and Best Actress (Hilary Swank). Swank won the award for Best Actress.
Why I Recommend This Film: This movie was excellently made. The performances are all outstanding, especially Swank's. She offers an amazing portrayal of an exceedingly difficult character, that of a transgendered person who is confused and constantly concealing a secret that could, and did, eventually end his life.
Why This is Important: This movie is important because it shows how truly devastating ignorance can be. Lotter and Nissen were so ignorant and so afraid of the unknown that they raped and killed people because of it. They exhibit homophobia in its most terrifying form. This movie also portrays a true story. It pays homage to the life of Teena Brandon/Brandon Teena, his family, and his supporters. It does an excellent job of accomplishing this mission.
Favorite Quotation: (These are Brandon's last lines in the movie. They are shared with the audience in the form of a letter that he sent to Lana when he thought he was going to be going home to Lincoln.)
"Dear Lana, By the time you read this I'll be back home in Lincoln. I'm scared of what's ahead, but when I think of you, I know I'll be able to go on. You were right, Memphis isn't that far off. I'll be taking that trip down the highway before too long. I'll be waiting for you. Love always and forever, Brandon."