The Birth of a Nation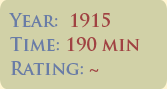 The Birth of a Nation is considered by many, including the American Film Institute, to be one of the greatest films of all time. Keep in mind, however, that this is due to the amazing technical strides that the picture made, not because of the film's storyline. This silent movie was made in 1915 and used techniques that are standard today, but back then, were groundbreaking. These techniques included the use of panoramic shots; long and high-angled shots; outdoor, natural landscapes; color-tinting for dramatization; fade-outs; and cameo-profiling. The film also featured its own original musical score written for an orchestra.
Despite these technical advances, this movie is extremely controversial. The movie focuses on two families, one is Northern and the other is Southern. The film is set in the 1860's and deals with the effect that the Civil War and Reconstruction had on the families' relationships with one another. The movie portrays southern Blacks as murderous rapists who carry out several horrifying deeds. It also depicts them winning the majority of seats in the House of Representatives, all the while drinking liquor and eating fried chicken. (These are just a few examples of the horrible stereotypes contained in this film). On the other side, the Ku Klux Klan are portrayed as heroes of the South who are fighting for peace and justice. They are depicted as moral men striking out against those who have committed heinous crimes.
D.W. Griffith was the director of this early-American epic. Griffith was born in rural Kentucky. He was the son of Jacob "Roaring Jake" Griffith, a Confederate Army colonel and Civil War hero. No doubt, his experiences with his father led to his interest in the film's subject matter.
Also, there are Black actors in this movie but they have only minor, insignificant roles. The major Black characters are played by White actors who are wearing "blackface." Blackface involves putting black makeup on White actors to make them look like the stereotypical caricature of a Black person.
The release of this movie was hugely controversial. The newly created NAACP protested the film, calling it racist and "vicious." Nonetheless, it grossed over $18 million before the creation of talking pictures in 1927 (a huge feat).
Why I Recommend This Film: I'm not entirely sure that I do recommend this movie. This movie presents an extremely offensive and inaccurate portrayal of the Civil War era. There are flagrant stereotypes depicted throughout the entire movie. There are also slanderous scenes of Blacks committing rampant acts of crime and KKK members flying in to save the day. Overall, this movie paints a very inaccurate picture of history. First, Blacks had little, if any, political power at this time. Second, the KKK was not a "noble" force in American history. They were a group of tyrannical, terrorizing vigilantes. The KKK has historically bullied and intimidated Blacks and other minorities in this country. Their tactics have included intimidation, rape, lynching, burnings, and floggings. And yet, this movie depicts Blacks as the individuals who are running the South and terrorizing White people. (Given these portrayals, it is not surprising that the modern Klan uses The Birth of a Nation to recruit potential members.) I cannot stress how OFFENSIVE and INNACURATE this technological and cinematic masterpiece really is.
Why It Is Important: This movie was incredibly amazing when it was released. First, from a technical standpoint, it was beyond first-rate. There were innovations in this movie that had never been done or seen before. This movie also sparked a nationwide controversy, inciting race riots in cities like Boston and Philadelphia. Unfortunately, the KKK experienced a revival in popularity after the initial release of this film.
Running Time: This silent film is 190 minutes long.

"The Clansman " was written by Thomas F. Dixon, Jr.