A Time to Kill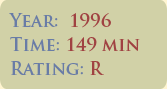 Description of Film: Joel Schumacher (The Phantom of the Opera) directs this incredibly powerful tale of justice and injustice in the south. Samuel Jackson (Star Wars) beautifully portrays Carl Lee Hailey, a Mississippi man whose 10-year-old daughter has just been raped and beaten by two white men. After Hailey takes the law into his own hands, he needs a lawyer desperately. Matthew McConaughey (Reign of Fire) turns in an excellent performance as Jake Brigance, the young lawyer who defends Hailey during his time of need. Kevin Spacey (Beyond the Sea) is exceptional as the District Attorney who prosecutes the case. Other members of this all-star cast include Donald Sutherland (Cold Mountain) as Lucien Wilbanks, Brigance's former mentor; Charles S. Dutton (Secret Window) as the sheriff; Sandra Bullock (Miss Congeniality II) as the brilliant law student turned legal assistant; Oliver Platt (Kinsey) as Harry Rex Vonner, Brigance's friend; and Ashley Judd (De-Lovely) as Brigance's wife.
The story really takes off when Hailey's case goes to court. The case becomes a full blown national issue when the ACLU, the NAACP, and the Ku Klux Klan get involved. The case becomes a highly charged racial issue that has both sides in upheaval.
This movie is rated R for violence and graphic language.
Why I Recommend It: This movie is very powerful. It makes you wonder how a case like this might unfold in real life. Would people respond the same way? Would it raise the same questions about race, prejudice, and justice? Would it become a heated, national issue as it did in A Time to Kill? The film also is of high quality. There is some amazing dialogue in this movie. I also loved the screenplay.
Why This is Important: This movie is important because it gets to the heart of a several key issues. For instance, it asks whether a Black person can get a fair trial in this country, even today? How do you make sense of the statistics that show that Black men in the U.S. make up a disproportionate amount of the prison population. Second, this movie looks at "justice" from different angles. Is vigilante justice acceptable when it comes to an extreme incident like the rape of a child? Does a court of law always provide justice? Third, this movie is important because speech plays such a vital role in it. The film contains amazing monologues that really get to the heart of race relations in America.

Written by John Grisham
Favorite Quotation:Jake Brigance: "And until we can see each other as equals, justice is never going to be even-handed. It will remain nothing more than a reflection of our own prejudices."