Guess Who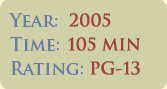 Description of Film: This film is based on the classic, 1967 Oscar-winning film "Guess Who is Coming to Dinner," starring Sidney Poitier and Spencer Tracy. In this modern version, Percy Jones (Bernie Mac), a black man with a huge personality, is devoted to making sure that his daughters don't associate with the wrong kind of men. When his daughter Theresa (Zoë Saldaña) tells her parents that she is bringing a new boyfriend, Simon (Ashton Kutcher), to their anniversary party, Percy gets curious. He does a background investigation on Simon and discovers that he is a thriving investment broker. What he doesn't learn, however, is more important. Simon recently quit his job, is engaged to Theresa, and is white. This is a huge problem for Percy and serves as the ground for most of the film's conflict.
Most of the comedic moments in Guess Who stem from the ensuing racial clash (such as a scene where Percy encourages Simon to tell "black jokes"). Things between Percy and Simon are rocky from the start. Percy goes out of his way to frighten and scoff at the younger man. On the eve of the anniversary part, the family is ripped apart by the conflict over race and relationship. Interestingly, the racial barrier between Theresa and Percy seems to affect Percy more than any of the other characters in the movie. Eventually, Percy realizes that love doesn't have any color and that Simon really does care for his daughter.
Guess Who was directed by Kevin Rodney Sullivan (How Stella Got Her Groove Back) and is rated PG-13 for its profanity and sexual situations.
Why I Recommend This Film: This film aims to combat racism and racial stereotypes in a comedic way. The tone throughout the film is generally appropriate. This film breaks away from the brutal reality of racial differences and combats the pitfalls of prejudice in a lighthearted manner.
Why This Film is Important: This film is important because it addresses the social taboo of interracial dating and the difficulties it poses, in a humorous, yet truthful way. This film shows that race doesn't have to be an issue when it comes to love and respect between two people. This film also shows that character is what makes a person, not the color of one's skin.
Favorite Quotation: Percy has encouraged Simon to tell a black joke. As the family laughs, Percy asks for a second joke.
Simon: "What are three things a black guy can't get? A black eye, a fat lip and a job...[the laughing stops]"
Howard Jones: "I tell ya I'm gonna kick that boy's ass!"
References: http://www.pluggedinonline.com/movies/movies/a0002096.cfm
http://www.tiscali.co.uk/entertainment/film/reviews/guess_who.html