O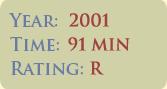 Description of Film: This film is a modern retelling of Shakespeare's Othello. O is a story of love and friendship that is spoiled by betrayal. This is a violent, gripping, emotional story. I found it to be a story of power and hate and how, when the two meet, tragedy follows. Shakespeare's plays often end in tragedy and this retelling is no disappointment.
This movie largely takes place on the basketball court. Mekhi Phifer (Curb Your Enthusiasm, ER, 8 Mile) stars as Odin, a very talented basketball player and the only African American student attending a private high school in Charleston, South Carolina. He seems to be a star on and off of the court. He has a beautiful girlfriend, Desi Brable (Julia Stiles, The Omen, The Bourne Supremacy, Mona Lisa Smily)), many friends, and the potential for a successful basketball career. We are introduced to Odin's best friend, Hugo Goulding (Josh Hartnett, Sin City, Black Hawk Down). Hugo is jealous of Odin's success and his relationship with the head coach, his teammates, and Desi. Hugo is the son of the head coach (Martin Sheen, The West Wing) and is starving for attention from his father. As Hugo's jealousy grows, he begins to use another student at the school, Roger (Elden Henson). Together, Roger and Hugo plot to put an end Odin's relationship with Desi and any chance that he might have of a career in basketball.
O was directed by Tim Blake Nelson and written by Brad Kaaya. It is rated R for violence, a scene of strong sexuality, language, and drug use.
Why I Recommend This Film: It would be hard to walk away from this film without feeling disturbed, fearful, and uncertain. The film really shows how people can easily manipulate others into thinking irrationally. We can see how easily a thought can be planted into someone's mind and provoke a shocking response. Additionally, when hate enters into a situation, it can fester and cause people to act in awful ways. In this film, hate spills over and causes others to hate and to irrationally. Interestingly, even though Odin was the only black student at the high school, race did not play much of a part in this film. Odin had fought against stereotypes of African Americans and was accepted and loved.
Why This Film is Important: I think it is good for us to look into the minds of the jealous, the greedy, or those who strike us as different. All of us have felt jealous and some of us are greedy. In this film, even the rich and powerful want more, or want better. This film shows us how poor choices can be made when people feel jealous or greedy.
Favorite Quotation:
Hugo:"All my life I always wanted to fly. I always wanted to live like a hawk. I know you're not supposed to be jealous of anything, but... to take flight, to soar above everything and everyone, now that's living. But a hawk is no good around normal birds. It can't fit in. Even though all the other birds probably wanna be hawks; they hate him for what they can't be. Powerful. Determined. Dark. Odin is a hawk. He soars above us. He can fly. One of these days, everyone's gonna pay attention to me. Because I'm gonna fly too."
Reference: http://movies.yahoo.com/movie/1804724734/info
http://movies.about.com/library/weekly/aa083001a.htm