Out of the Ashes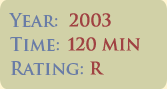 Description of Film: Out of the Ashes, made for cable television, was directed by Joseph Sargent (Bojangles, Miss Ever's Boys). The film was based on the real-life discrimination, hatred, and brutal abuse faced by a Jewish Hungarian woman trying to survive the Holocaust. Christine Lahti (Jack & Bobby, Swing Shift, Running on Empty) stars as Dr. Gisella Perl, a gynecologist faced with moral dilemmas at the Auschwitz death camp during WWII. She gives the audience a vivid description of her attempts to survive the Nazi's abuse while trying to convince an American immigration board to grant her citizenship. Dr. Perl is being questioned about the ethics of her actions and moral reasoning because she collaborated with German doctors. To gain citizenship and continue to work as a doctor, she must relive the horrible memories of those times as she answers questions for the board.
The film, written by Anne Meredith, also stars Bruce Davidson, Richard Crenna, Beau Bridges, and Jonathan Cake. This film is rated R for violence/cruelty and some nudity.
Why I Recommend This Film: This is a must-see film. It includes many extremely clear and fresh pictures of hate that put you in the shoes of the victims. Some graphic scenes of the treatment of women caused its R rating. The most attractive feature of Out of the Ashes is its descriptive, colorful background and imagery. The film won an Emmy Award in 2003 for its cinematography. This high quality film satisfies the imagination and paints a powerful picture of war times. In almost every scene, you can gather an understanding of how hate can be the root of unfair treatment, privilege, discrimination, and death.
Why This Film is Important: This film can be used to teach people how to confront hate. It encourages privileged people, whomever they may be, to at least recognize the point of view held by less privileged people. For example, in one of my favorite scenes, Dr. Perl is being challenged for hours with questions about her morality. She asks the board …"America knew! You all knew and you sat here and did nothing?" Most underprivileged people don't get the chance to challenge a privileged group to do something to help. This film suggests that if privileged people do nothing to help less privileged people who are in crisis, they have no moral ground upon which to question the ethics of the underprivileged.
Favorite Quotation: The horrors of the Nazi era are clearly evident when Dr. Mangela speaks about replicating the process of birthing twins to Dr. Perl: "Could we replicate that process in other women; specifically in Arian women? … What an ingenious way to quickly multiply a pure Arian race…First we must eliminate all contaminants of pure Arian blood, yeah?"
Reference: http://www.rottentomatoes.com/m/out_of_the_ashes/