Pleasantville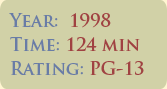 Description of Film: This movie provides a lighter look at discrimination. "Pleasantville" is a television show that David Wagner, played by Tobey Maguire (Spiderman I and II), is obsessed with. The show is a black-and-white comedy that focuses on a "wholesome" family. Set in the 1950's, the television show is similar to "Leave it to Beaver." Wagner loves this show because it lets him escape from his everyday life. David and his sister, Jennifer (Reese Witherspoon, Legally Blond), lead troubled lives. Their mother and father are divorced and neither parent seems to want to spend time with David and Jennifer. One night, the two siblings begin arguing over the remote control when suddenly they are transported into the world of Pleasantville and become the show's two main characters, Bud and Mary Sue Parker. In this world, people seldom think for themselves; they mostly just follow the rules. However, soon David and Jennifer are turning this world upside down. They start to open people's minds and when they do, everything turns from black-and-white into Technicolor. Some people don't embrace this at all, however, and the "coloreds" are banned from certain areas. Gary Ross (Seabiscuit) wrote and directed this unusual look at discrimination and conformity. Joan Allen (The Crucible) turns in a brilliant performance as Betty Parker, the conservative mother. William H. Macy (Fargo) is exceptional as George Parker, the father who is unwilling to change. J.T. Walsh (A Few Good Men) offers a first-rate performance as Big Bob, the man who runs Pleasantville and begins to hate all of the changes that David and Jennifer trigger.
Pleasantville was nominated for three Academy Awards: Best Art Direction, Best Costume Design and Best Original Dramatic Score.
Why I Recommend This Film: This movie is beautifully done. The cinematography is gorgeous and the acting is superb. This movie offers an interesting look at discrimination because it focuses on "color," not "race." This provides a lighter way into a discussion about a very serious issue.
Why This is Film Important: This movie reminds me of the brown-eyed/blue-eyed experiment. It suggests that discrimination can touch anyone at any time. Discrimination doesn't have to be just about race, sexual orientation, or religion. Discrimination about other issues can hurt just as much.
Favorite Quotation: David: I know you miss her. I mean, you told me you did. But maybe it's not just the cooking or the cleaning you miss. Maybe it's something else. Maybe you can't even describe it. Maybe you only know it when it's gone. Maybe it's like there's a whole piece of you that's missing too. Look at her, Dad. Doesn't she look pretty like that? Doesn't she look just as beautiful as the first time you met her? Do you really want her back the way she was? Doesn't she just look wonderful? Now don't you wish you could tell her that?