Glory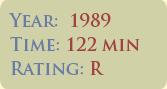 Description of Film: Matthew Broderick (Ferris Bueller's Day Off) stars in Edward Zwick's (The Last Samarai) poignant Civil War picture. Broderick plays young Robert Gould Shaw, the man who led the 54th regiment, the first all-Black, volunteer company. The star-studded cast includes Morgan Freeman (Shawshank Redemption, Million Dollar Baby) as the wise Sergeant Major John Rawlins, Denzel Washington (Training Day, Malcolm X ) as the wise-cracking instigator Private Trip, Cary Elwes (Princess Bride) as Major Cabot Forbes, and Andre Braugher (Get on the Bus) as the reserved and educated Thomas Searles.
When the movie begins, Robert Gould Shaw is engaged in battle at Antitem. The opening scene makes it clear that this movie has a lot to do with Shaw's inner conflict as well as the one going on around him. He is clearly sickened by war, but at the same time, his sense of duty pushes him on. He is assigned to lead the first all-Black regiment; this regiment's struggles become the focal point of the film. The men in the regiment gave up their freedom and their lives to be a part of this company. All they want to do is fight in the war and have a chance to win "glory" and their freedom. However, no one wants them to fight; the war department was just using them as manual labor. Nonetheless, the 54th finally makes their mark.
This movie features graphic violence; after all, it's a war picture. There also is some strong language.
This movie earned five Academy Award nominations and won in three categories: Best Actor in a Supporting Role (Denzel Washington), Best Cinematography and Best Sound. It also was nominated for Best Art Direction and Best Editing.
Why I recommend it: I recommend this movie because it offers a remarkable look at the Civil War through the eyes of those most affected by its outcome. These men were not only fighting for the Union and the President, they were fighting for their own freedom.
Why This is Important: This movie is based on a true story. Robert Gould Shaw was actually a real person and the real leader of this company. The Civil War may have taken place over a hundred years ago, but the events that took place before, during and immediately after have shaped our history and our future as a country. When the Civil War is discussed, it always seems as though we begin by talking about how the Union (comprised of White soldiers) fought for the emancipation of the slaves. But, that's not all there is to be said. People of color also were fighting. Those who literally fought for their own freedom clearly had a more powerful reason to fight than many other people.

This movie is based on Lincoln Kirstein's "Lay This Laurel," Peter Burchard's "One Gallant Rush," and the letters of Robert Gould Shaw.
Favorite Quotation: Rawlins and Trip have a heated conversation about the word "nigger." Trip uses this word to refer to everyone until Rawlins says: "And who are you? So full of hate that you have to fight everybody, because you've been whipped and chased by hounds. Well that might not be living, but it sure as hell ain't dying. And dying's been what these white boys have been doing for going on three years now, dying by the thousands, dying for you, fool. I know; I dug their graves. And all this time I keep askin' myself, 'When, O Lord, when gonna be our time?' Gonna come a time when we all gonna hafta ante up and kick in like men, LIKE MEN! You watch who you callin' nigger! If there's any niggers around here, it's YOU. Just a stupid-ass, swamp-runnin' nigger! And if you not careful, that's all you ever gonna be!"