Mi Familia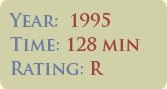 Description of Film: From acclaimed director Gregory Nava (Selena) comes this poignant look at three different generations of an immigrant family from Mexico. The opening of the film features Maria and Jose Sanchez (played as a young couple by Jennifer Lopez, Shall We Dance, and Jacob Vargas, Flight of the Phoenix; later played by Jenny Gago, Coach Carter, and Eduardo Lopez Rojas, La Maceta), the first generation of the Sanchez family. These two separately immigrate to Los Angeles where they meet and get married in the 1930's. The couple have two children, but while Maria is pregnant with their third child, she is illegally deported. Later, the story moves to two of the children, Chucho, played by Esai Morales (NYPD Blue), and Jimmy, played by Jimmy Smits (The West Wing). Chucho is an impetuous young man who leads a gang and always is running from the police. Jimmy follows in his brother's footsteps for a while, until tragedy strikes and forever changes his life. Jimmy later is sent to prison and comes back to the family after completing his sentence. The family is going through perils again as Jimmy's sister, Toni (Constance Marie, George Lopez), announces that she is leaving the convent to be with former priest, David, (Scott Bakula, American Beauty). They also have decided to save a Salvadoran woman named Isabel (Elpidia Carrillo, Nine Lives) by convincing Jimmy to marry her. The two get married, fall in love and have a son together, only to be eventually plagued by more and more tragedy.
Mi Familia was nominated for an Academy Award for Best Makeup.
This movie is rated R for language, graphic violence, and sexuality.
Why I Recommend This Film: This is a beautiful story about the love of one family and how the bonds of that family can hold it together through various trials and tribulations. The acting is excellent and the film is beautifully shot. The cinematography is done well.
Why This Film Is Important: This movie is rich and vibrant. It features themes that penetrate to the heart of the immigrant experience in America. This movie centers on class and culture differences. It shows us that family ties are eternally binding and can survive the roughest of winds.