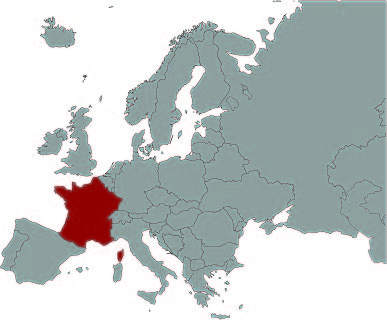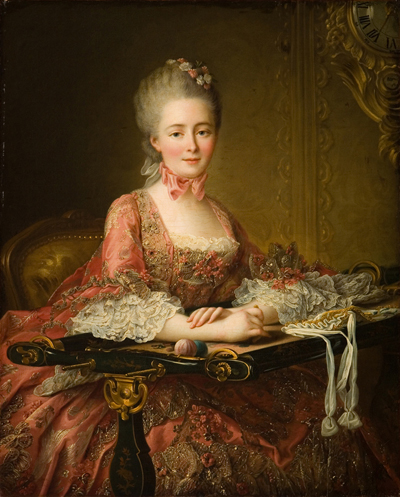 Rococo (c. 1700 CE - 1776 CE)
Unlike the serious, heavy-looking Baroque style, Rococo was a decorative, elaborate art most often seen in French architecture and sculpture. Painting was often considered frivolous-looking and characterized by fluidity, curving lines, and lustrous colors. Favorite subjects for Rococo artists were the courtly lifestyles and playful love lives of the aristocracy. Drouais, the most prominent portraitist of his time, was the private artist of King Louis XV of France and a favorite of the king's mistress. At the time this portrait was painted, the marquis had recently arrived at court after the death of her husband.

The setting of the room and posture of the marquise are casual and relaxed, a characteristic seen often in Rococo art. Notice her elaborate dress, detailed in fine embroidery and trimmed with patterned lace. The fine garment is not only beautiful, but displays the wealth of the marquise.

She sits at her embroidery table, which illustrates her industriousness and interests. Portraits of this style often include a person with an object relating to their skills or interests in much the same way we pose with our favorite objects in our photographs.
Marquise de Caumont La Force
1767
Francois Hubert Drouais, French (1727-1775)
Oil on canvas
39 inches H; 31 5/8 inches W
E. Arthur Ball Collection
1995.035.125
World Events
1560-1648 Counter Reformation begins.

1609 Galileo invents the telescope.

1620 The Pilgrims land at Plymouth.

1624 Versailles Palace built in France.

1687 Newton devises the theory of gravity.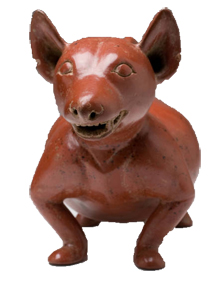 DARCY DISCUSSES: ARTIST
The artist of this painting, Drouais, was sometimes criticized for being superficial, overly sweet, and lacking in the spark that brings out the subject's personality. Do you agree with these criticisms? Why or why not?