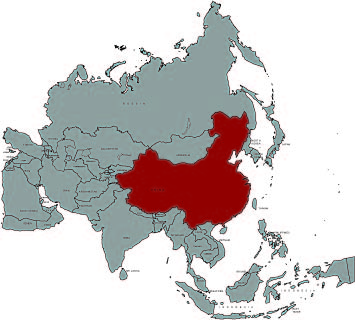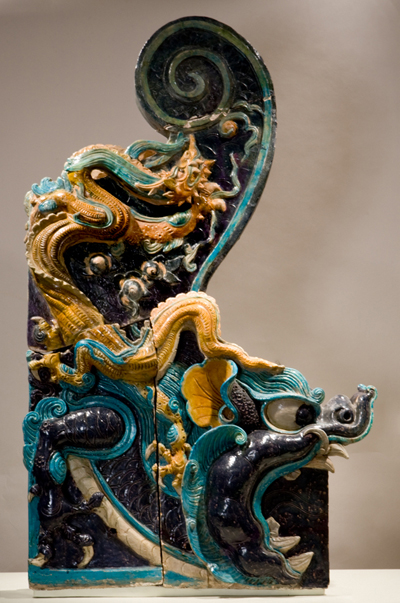 China - Ming Dynasty
Zhu Yuanzhang, an uneducated and poor peasant, founded the Ming dynasty in 1368 CE after forcing the Mongols out of Beijing. While gaining power and creating a following, he found help from scholars. Ironically, when his reign was firmly established, he began to distrust and alienate intellectuals. The dynasty ended in 1644 CE.

The Ming Dynasty made large roof tiles intended to scare away evil spirits. These tiles depicted protective animals, such as dragons. The tiles sat on a ridgeline along a roof. They faced each other and held a ceramic beam in their mouths. Imagine standing in front of a building, looking up, and seeing these magnificent dragons on the highest part of a roof.

These dragon roof tiles originally sat on a temple, and those who entered the temple believed the roof dragons controlled the rain. They believed whenever a dragon would open his mouth, rain fell. This was convenient since these dragons were believed to protect against lightning and fire; therefore if something was on fire, the dragons could make it rain and quench the fire.
Dragon-Form Roof Tiles,
1368-1643 CE
Unidentified Maker, Chinese
(Ming Dynasty)
Ceramic
50 1/2 inches H; 30 inches W; 10 3/4 inches D
Gift of Alconda-Owsley Foundation
2001.007.1 and 2001.007.2
World Events

79 BCE Pompeii Mosaics Created.

64 CE Rome Burns.

132 CE Han Dynasty; Invention of first seismoscope for detecting earthquakes.

1000 - 1500 Romanesque and Gothic styles in Europe.

1271 Marco Polo travels to China.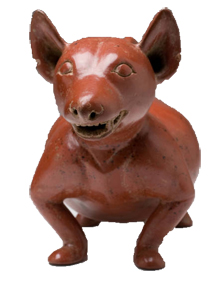 DARCY DISCUSSES: FACT
Roof dragons always appeared in an odd number, and there never were more than eleven.